Data General One
| | |
| --- | --- |
| Available: | September 1984 |
| Price: | $2,895 |
| Weight: | 9 pounds |
| CPU: | Intel 80C88 @ 4MHz |
| RAM: | 128K - 512K |
| Display: | 11-inch LCD, 80x25 text |
| | 640x256 graphics |
| Ports: | telephone, serial, parallel, system bus |
| Drives: | 1 or 2 internal 720K 3.5-inch |
| OS: | MS-DOS 2.11 |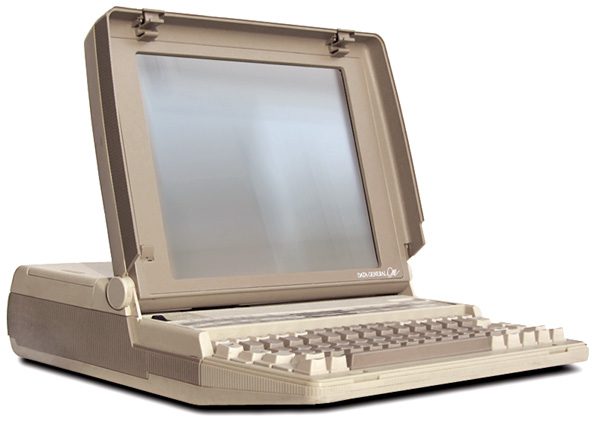 Data General was one of the first minicomputer companies originating all the way back to the 1960s.

In 1980, DG launched a new system, the Data General Eclipse MV/8000, a $258,000 32-bit minicomputer. This in itself is not especially noteworthy, except that a "Pulitzer Prize" and a "National Book Award" winning book, The Soul of A New Machine, was written about the process. There's a excerpt available on the author's site.

Later, in 1984, DG introduced the Data General One, the first complete, truly portable, IBM-compatible personal computer with a full-size LCD display.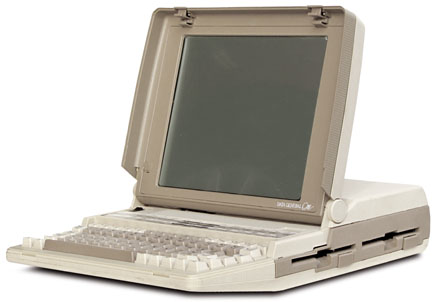 The Data General One is a battery-powered traveling workstation with advanced features such as:
one or two 3.5-inch floppy drives - the first portable computer to incorporate the new Sony 3.5-inch disks.
a huge 11-inch display - the largest of any portable computer - capable of displaying a full 25 lines of text with 80 characters per line.
weighing only 10 pounds, it is significantly lighter than competing CRT-based portable system, like the IBM Portable
up to eight hours of run time using the internal rechargable batteries.

The optional modem and built-in terminal emulator software allows the DG/One act as a simple terminal for communicating with other computer systems and dial-up services, as well as Data General's own "Comprehensive Electronic Office" (CEO) office automation system - their contribution to the "paperless office".

While great in theory, the DG/One has a few issues:
The giant 11-inch LCD screen, while new and amazing, has poor contrast, making it difficult to read.
The display only has two positions - open and closed - with no stable positions in between.
Large 5.8VDC external power supply required to charge the batteries.
No carrying handle to lug the 10 pound system around.

Prices started at a reasonable $2,895 for a one-floppy drive machine with 128K RAM, but the price goes up fast when you expand:
a second internal floppy drive cost an extra $599
each block of additional 128K of RAM - $599
an external 5.25-inch floppy drive - $795
an attachable thermal printer - $499
an optional internal modem - $250



tr>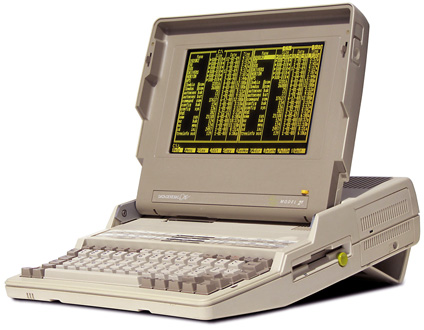 Data General One - model 2T - with ELD

Correcting system deficiencies and making improvements, Data General upgraded the DG/One numerous times and released new models over the next 4 years.

In October 1985, Data General offered reduced system prices:
System with 1 floppy drive, 256K RAM - price reduced from $2,995 to $2,195
System with 2 floppy drives, 256K RAM - price reduced from $3,495 to $2,695
System with 2 floppy drives, 512K RAM - price reduced from $4,695 to $3,195

In May 1986, a new system - Model 2 - was released - it includes:
new LCD with better contrast, 1 floppy drive, 256K RAM, 7 hours battery life - $1,795
electroluminescent display (ELD), 1 floppy drive, 256K RAM - $2,795
electroluminescent display (ELD), 1 floppy drive, 640K RAM, 10MB internal hard drive - $4,635

In May 1987, the new and improved Model 2T was released - it includes:
faster 80C88 @ 4.77MHz / 7.14MHz, 512K RAM standard
backlit green supertwist LCD, 1 floppy drive - $1,695
backlit green supertwist LCD, 1 floppy drive, 10MB hard drive - $2,895
electroluminescent display (ELD), 1 floppy drive - $2,695
electroluminescent display (ELD), 1 floppy drive, 10MB hard drive - $3,895






While the new electroluminescent display (ELD) offered uncompromising brightness and contrast with it's glowing amber screen, the power requirements where so high that the system is no longer capable of running on internal batteries. The Model 2T was designed to run on an external power supply only, sacrificing portability for readability.

By February 1988, the system is comprised of a new, high visiblity, blue supertwist LCD display, with 20MB hard drive - $3,195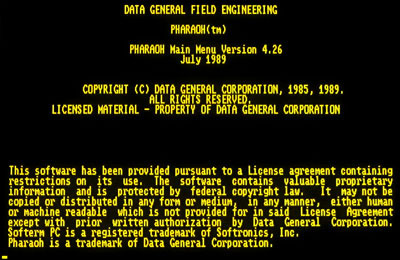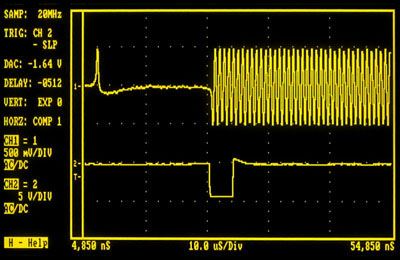 Some time prior to 1989, the ELD DG-2T, with the addition of a large external module, becomes the "Pharaoh" - an advanced electronics test instrument featuring an on-screen AC/DC digital volt meter, a dual-trace oscilloscope, and more. It was used by Data General field service technicians for diagnostics, on-line tech help, and service call processing.

Even though the Data General One was a breakthrough back in 1984, the heavy batteries and large cumbersome construction was becoming a hinderance by the late 1980's.
Along with the new Macintosh Portable, they were the last of the heavy and unwieldy portable computer systems.

Within just a year or so, in 1990, the new "pocket" computers were appearing, with the Poqet PC and Zeos PPC both having a full 80x25 display, all in a one pound or less package.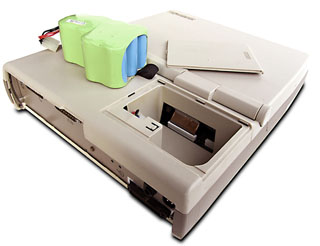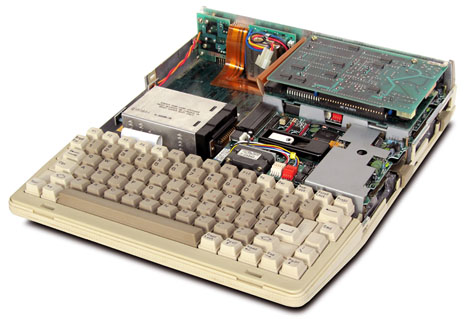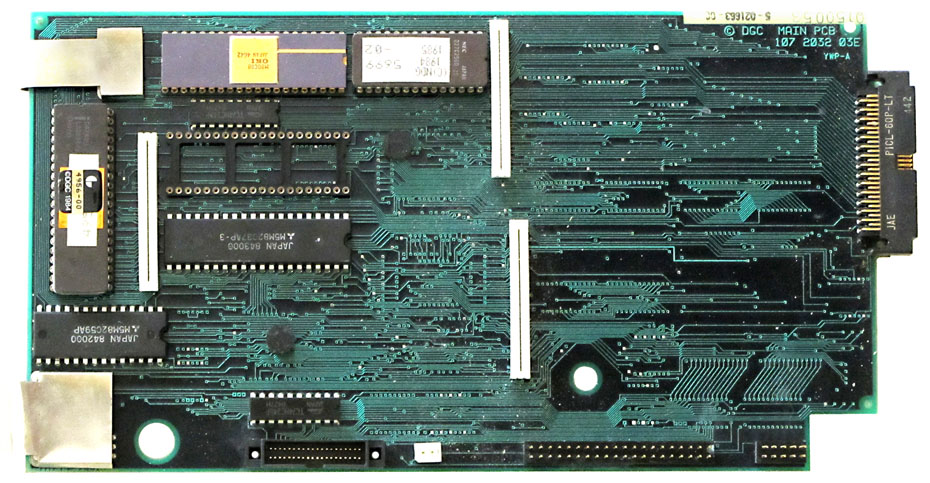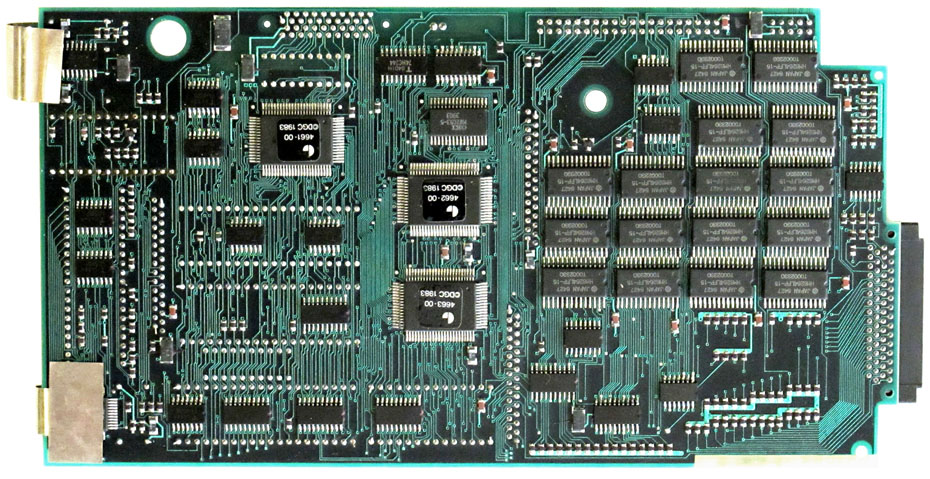 Return to the Obsolete Technology Homepage